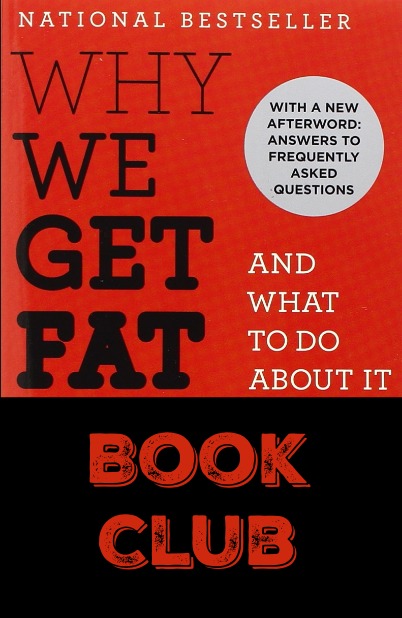 We are starting our first book club next week!  I am so excited to start this with you all and am looking forward to continuing our education about what exactly has made us all so fat and what we should do about it.
Starting next week, we will be reading Why We Get Fat and What to Do About It by Gary Taubes.  That link is an affiliate link that will take you to Amazon to buy the book and will earn me a few pennies.  I would appreciate it if you used it to purchase the book if you don't already have a copy.
We will be conducting the book club on the same Facebook group that held the 28 Day Weightloss Challenge.  How it will work is twice a week I will start a FB thread on that page with a chapter synopsis and perhaps a few questions and then we can discuss what we read from there.  New threads will go live every Monday and Thursday at 9AM CT until we are done with a more complete schedule included below.  You don't have to be there as the threads go live, just come on at your leisure and give us your thoughts.
It is my fervent hope that the more educated we become about the biology behind obesity the better choices we will make about what we eat and how we live.
Here is the schedule
Monday June 27 – Author's Note and Introduction
Thursday June 30th – Chapter 1
Tuesday July 5th (A small scheduling change so I can enjoy the holiday) – Chapter 2
Thursday July 7th – Chapter 3
Monday July 11th – Chapter 4
Thursday July 14th – Chapter 5
Monday July 18th – Chapter 6
Thursday July 21st – Chapter 7
Monday July 25th – Chapter 8
Thursday July 28th – Chapter 9
Monday August 1st – Chapter 10
Thursday August 4th – Chapter 11
Monday August 8th – Chapter 12
Thursday August 11th – Chapter 13
Monday August 15th – Chapter 14
Thursday August 18th – Chapter 15
Monday August 22nd – Chapter 16
Thursday August 25th – Chapter 17
Monday August 29th – Chapter 18
Thursday September 1st – Chapter 19 and Appendix
Don't miss a post! Click here to sign up for our daily email!
Need more info about the ketogenic diet? How about a great support group? Join our Ketogenic Facebook support group!