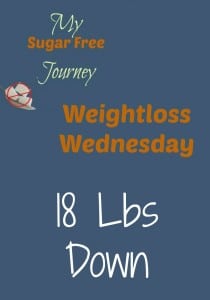 It's time for another Weightloss Wednesday check-in!  After spending several days sitting with a family member in the hospital, I was surprised to see that I had gained about 5 pounds eating hospital food and it has taken me all week just re-lose those 5 lbs.  That was a bit disheartening but it reminded me why it is so important to prepare my own food and portion it out like I want because I apparently can't trust anyone else's food.
Also, in order to keep challenging myself and get as healthy as I can, I have decided to do 2 things in the month of March that I think will move me closer to my goals.  First, I've decided to try to get 5 miles a day in on my bike for 5 days a week.  I've done this for the last 2 days and it has become very clear that I'm going to have to invest in a more comfortable bike seat if I'm going to do this.  Secondly, I'm going to cut out my beloved Coke Zero.  I've tried to do this a few times over the course of my sugar free journey but it always ends with me obsessively craving it and finally giving in.  Hopefully, this is the time I can pull it off.
All in all, I'm at 282 lbs and feeling good but anxious to see 270-something on the scale.