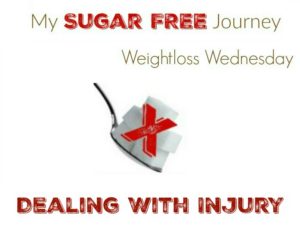 It's time for Weightloss Wednesday!  Today I'm at 246.1 lbs which means I am down 153.9 lbs overall and 53.9 lbs since the first of the year.  I look at those numbers and know that it's all good news, I mean who complains about losing over 50 lbs in 9 months?  Well me apparently because I've been within 5 lbs of this weight for over a month and can't seem to get unstuck.  I think I know the reasons for this and I'll go in to some detail below but I just want to see this weight continue to come off and when that doesn't happen for a month or more I get a little frustrated.  Of course the only way to handle this is to keep calm and stay with what works.  "Dance with the one who brung ya" as we say down here in the South.  So let's break down what's been going on.
Diet
This has been the biggest factor I think because I have been working on a new recipe ebook for you guys.  This of course means I have been experimenting with new recipes for the last few weeks which of course means we have had dessert every night for at least a week if not more.  They might be sugar free and LCHF but it was probably still too much of a good thing.  I mean, come on, no one can eat cheesecake for a week and expect to lose weight no matter how healthy it is.  The good news is I had the last of the chocolate chia seed pudding last night (which is amazing!) which means I can get back to my normal regimen.
Well not exactly because I have made one change that I experimented with a few weeks ago and wanted to try it out again.  I am back on an Intermittent Fasting routine and have been pretty impressed with the results.  I think the most amazing thing is that I can go from 8 PM one night to 2 PM the next day without eating and not be ravenously hungry.  The only discomfort I feel is this vague sense that something is "missing" when I sit down to work.  It's just not a normal routine for me yet.  If anyone is interested in reading a bit more about IF, Dr Fung and Jimmy Moore are teaming up to write what I'm sure will be the definitive book on the subject that you can preorder here.  I've already read Fung's Obesity Code and Moore's Cholesterol Clarity and Keto Clarity and have been very impressed with both men's depth of knowledge so I would definitely check it out.
Exercise
This has been a frustrating week for exercise because I pulled a muscle in my leg and so I've been taking it easy for a few days to give it time to heal.  Do you know what it's like to be on ketogenic diet and not be able to exercise?  I feel like a rat in a cage, I just have too much energy and no way to let it out.  I can't even walk my dog and she is terribly upset by that as well.  I think today I'm going to go to the gym and just work on my arms to get a little work done.  My gym has this weird arm bike thing that lets you do upper body cardio so I'm going to take advantage of that.  Also, if you are starting a new exercise routine, stretch!  I think all this could have been avoided if I had just done some stretching before my workouts.
That's it for this week.  Thanks for visiting and don't forget to subscribe to the YouTube channel to never miss a video.  If you wi\ould like to hear me speak, come join me at the Arlington Pinners Conference and use code SugarFree to get 10% off the tickets.  Scroll WAAAAAAAAY down to the bottom of the page to see my pretty face.
How have you done this week?  Leave me a comment below or join us in the 28 Day Weightloss Challenge group and talk to us there.
Don't miss a post! Click here to sign up for our daily email!
Need more info about the ketogenic diet? How about a great support group? Join our Ketogenic Facebook support group!