Roasted Broccoli and Cheese Recipe!
So I have to tell you a story.  When I was a kid if you ever asked me what my favorite food was, the answer was always the same; Broccoli and Cauliflower with Cheese Sauce.  I know that's a weird thing for a kid to like but I just couldn't get enough of it.  Of course, as healthy as that might sound it really wasn't because the "cheese" I was eating was Campbell's Cheddar Cheese soup mix so it was basically it was nacho cheese with God knows what in it.
So know I need to come up with a replacement recipe that uses real ingredients.  For the longest time I was steaming the broccoli but I really like it when my veggies are a bit crunchy.  This is actually a point of contention in our household because Dian is convinced that if a vegetable is even close to crunchy then it isn't cooked.  I end up steaming everything to mushy oblivion.  Yuck.
The beauty of roasting is the broccoli is cooked but still has a firmness that doesn't make me think I'm eating off the Seniors Plate at Denny's.  Plus when you figure in the olive oil and shredded cheese, it ends up with a fairly high fat content which is great for my ketogenic diet that has me 150 lbs and falling.
The recipe is very simple, first preheat the oven to 350° then cut up a head of broccoli and spread it out in a pan in one layer.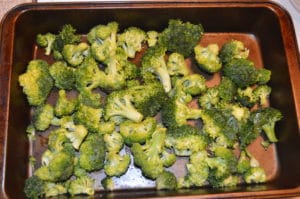 Then drizzle olive oil over the broccoil and season with salt.  Then throw it in the oven for about 20 minutes until cooked.  Sometimes I'll turn the broiler on for about 2 minutes at the end to singe the tips.  Not sure why but I like them a bit burnt.  Then take it out and sprinkle the shredded cheese on top and put it back in the oven for maybe 2 minutes until it is all melted.
That's it!  Quick, easy and tasty which is my favorite type of recipe. If you decide to make this, please tag @MySugarFreeJrny on Instagram so I can see it.  Also, you can see all my recipes here.

Yield: 2 Servings
Roasted Broccoli and Cheese Recipe
Prep Time: 10 minutes

Cook Time: 22 minutes

Total Time: 32 minutes

An easy to make dish that is keto, LCHF, vegetarian, and sugar free friendly. Leave the cheese off to make it paleo and vegan.
Ingredients
1 head of broccoli
1/4 cup of Olive Oil
1 Tsp Salt
1 cup of Shredded Cheese
Instructions
Preheat oven to 350°
Cut broccoli into individual florets and place in pan or cookie sheet
Drizzle the olive oil and sprinkle salt over all florets
Bake for 20 minutes, then remove from oven
Sprinkle shredded cheese over all broccoli and place bake in oven for 2 minutes to melt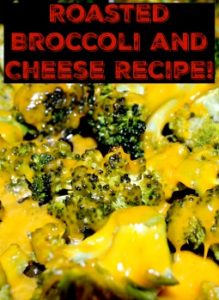 Don't miss a post! Click here to sign up for our daily email!
Need more info about the ketogenic diet? How about a great support group? Join our Ketogenic Facebook support group!