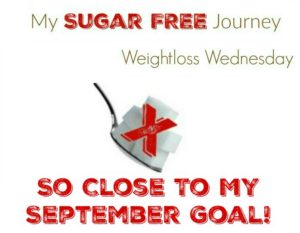 It's time for Weightloss Wednesday!  I said I wanted to be under 240 by the end of the month and I am soooooooo close!  As of this morning I am 241.5 lbs which means I am 158.5 lbs down just 1.5 lbs away from my September goal.  With 3 days left to go, I think I'm going to be able to do it and can't wait to be able to say I have lost 160 lbs just by changing my diet.
Diet
Now that I've been doing Intermittent Fasting for a little over a month, I have to say it's been a game changer.  The weight comes off a lot quicker and it helped me get off a very annoying plateau I was on where it seemed like I was only losing about a half a pound a week for 2 month.  (For contrast, I've lost 2 lbs just this week and so small losses every day.)  When IF is added to a LCHF diet, it really helps your body repair itself and get healthy faster.  I've also started adding a bit of raw apple cider vinegar to my water because I've heard good things about that.  No idea if it's actually helping though but I've come to enjoy the taste over just plain water.
Exercise
Continuing with StrongLifts 5×5 at the gym 3 days a week.  It is unbelievable how weak I am but it's cool to see those small, incremental changes in how much I can lift. I joined a gym where everyone in this place is really buff so it's a bit intimidating but I'm getting there.
Overall, things are going well.  The weight is coming off and I feel better every day.
Please remember to subscribe to the YouTube channel to never miss a video and come see me over on Instagram.
Don't miss a post! Click here to sign up for our daily email!
Need more info about the ketogenic diet? How about a great support group? Join our Ketogenic Facebook support group!