Broccoli Chips Recipe
If you haven't already noticed, I'm a pretty frugal guy.  That's why I do the coupon list for real food and have an entire website dedicated to teaching people how to save money at Walmart.  (and my wife has on that teaches people how to save at any grocery store.)  Being a frugal guy, I usually buy the full broccoli stalks at the store instead of paying more for just the crowns but I always felt like I wasn't getting my money's worth.  I mean what do you do with those huge stalks?
Well let me tell you because we no longer just throw them away but turn them into a tasty crunchy side dish.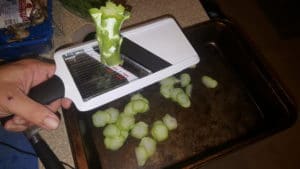 All you have to do is slice them into thin slices and bake them in the oven.  It works best if you have a mandolin slicer which has become one of my favorite kitchen gadgets for slicing up veggies.  (especially beets.  Not even sure why I like sliced beets so much.  They are just really good.)
Once you slice them up, you put them in the oven with some butter and garlic salt and you end up with an awesome side dish.
You can see all my recipes here and if you decide to make this, tag @MySugarFreeJrny on Instagram so I can see it!
Broccoli Chips Recipe
Prep Time: 5 minutes

Cook Time: 20 minutes

Total Time: 25 minutes

A tasty way to use your broccoli stalks
Ingredients
Broccoli stalks
1 Tbsp Garlic salt
2 Tbsp Butter
Instructions
Slice stalks thinly
Place in pan with butter and season with garlic salt
Bake on 350° for 20 minutes
Don't miss a post! Click here to sign up for our daily email!
Need more info about the ketogenic diet? How about a great support group? Join our Ketogenic Facebook support group!