Chili Lime Brussels Sprouts Recipe!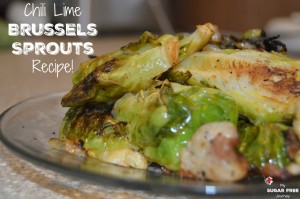 We have a weird history with Brussels Sprouts in my home,  Every adult and child in my home absolutely hated Brussels except one, the only one that counted, my wife Dian.  And it wasn't like green beans or carrots or all the other veggies we cycled through as side dishes, she wanted these things every dang night.  She was convinced they kept her healthy and who knows, maybe they did.  All the rest of us knew was that we wanted no part of it.
While the kids were growing up, all I did was buy these $.99 boxes of PictSweet frozen Brussels covered in what was supposed to be butter but really, who knows what it was.  We microwaved those for Dian and I made something else for the rest of us.  The best part was that one tiny box would last a few days because no one else was touching them.
After the kids moved out I decided that since Dian loved them so much, I really needed to find something that worked.  Imagine my surprise when I found out that fresh Brussels taste a million times better than soggy frozen ones. (Duh!)  So tried cooking them different ways and we finally settled on frying them in olive oil as our "go-to" method.  And although the recipe below calls for bacon, onion and Tajin, cooking them with just the oil and salt works just as well.
Also a word about Tajin, the most amazing spice in my spice cabinet.  (You can read my love letter to Tajin here)  It's not a spice that everyone has unless you live here in the SouthWest and are Hispanic but I can't tell you how amazing it is with the written word.  We put that stuff on everything and there are very few veggies it doesn't taste awesome on but if you don't have it, there is an easy substitute.  Just squeeze half a lime over your Brussels and season with salt and Chili powder, it willl still taste great.
If you decide to make it for your family, send me a pic or tag it #MSFJ on Instagram, I would love to see it and don't forget to subscribe to my daily email to never miss a post and our YouTube channel to never miss a recipe.  So without further ado, here is my Chili Lime Brussels Sprouts Recipe.
Author:
Prep time:
Cook time:
Total time:
A simple Brussels Sprouts recipe
Ingredients
12 Brussels Sprouts
2 slices of sugar free bacon, chopped into 1″ squares (Usually low sodium bacon or [url href="https://mysugarfreejourney.com/sugar-free-product-spotlight-pedersons-bacon/" target="_blank"]Pederson's[/url])
1/2 Onion, diced
2 Tbsp Olive Oil
[url href="https://mysugarfreejourney.com/3-must-have-spices-for-sugar-free-cooking/" target="_blank"]Tajin seasoning[/url] to taste (or sub 1/2 Lime, 2 Tbsp Chili Powder and salt to taste)
Instructions
Turn skillet to medium-high heat and put olive oil in pan
Cut Sprouts in Half length-wise and place cut side down in oil
cover with onions and bacon, season with Tajin and cover skillet
Cook until dark brown on bottom, about 7-9 minutes, then flip.
After the flip, ensure the bacon and onions are on the bottom of the skillet to cook
Cook another 5 minutes until sprouts are fork soft