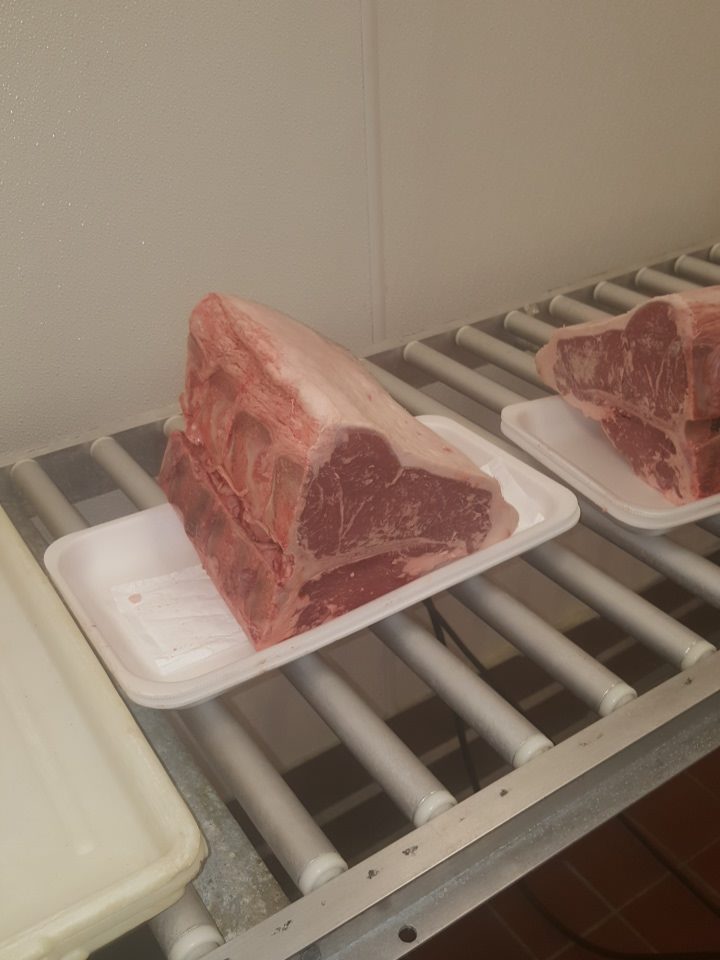 I was talking to my butcher the other day and was asking how thick I could get my T-Bones cut.  He was going over the different options and he ended with "or I could leave it as is."  This was not an option I had really considered!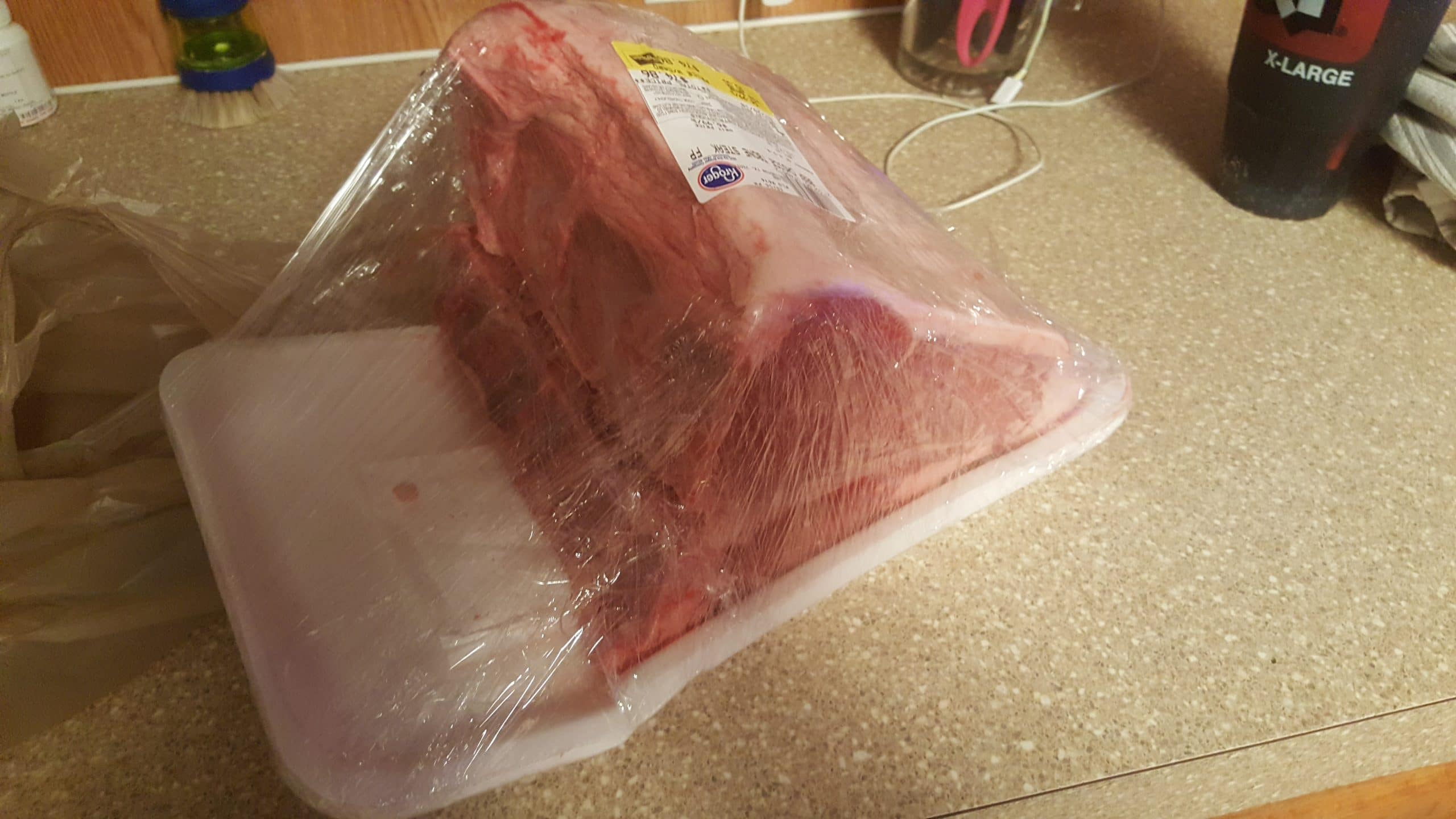 I could take home a massive 10 lb, 6 in thick T-Bone and cook it like a roast?  Heck yeah!  Let's do that!
I was a little torn on how exactly to cook this monster and the internet was of no help.  I thought about searing it before roasting it but decided against it because I was already running the risk of it burning on the outside and not cooking in the center.  Instead I decided to cut up some onions, carrots and radishes and line the bottom of a roasting pan with them to give me a little separation from the bottom of the pan.  The I cut some basil, rosemary, thyme and oregano from my herb garden and rub the outside of the roast, then I LIBERALLY rubbed it down with my Redmond's Real Salt.   If there was one thing I wish I had done differently, I would have used even more salt and maybe a little pepper.
I elected to roast it on 350° for what turned out to be 3 and a half hours.  I had no idea what length of time to cook it for so I relied heavily on my trusty meat thermometer.  I was shooting for an internal temperature of about 135-140° F and as you can see in the next pic, I probably over shot it a bit.
This is after letting it rest for about 15 minutes and you can see it still bled quite a bit.  I wish I had taken it out of the oven maybe 20 minutes earlier and left it more on the medium rare side instead of medium well.  It was also kind of cool for the pink meat to be next to the bone instead of in the middle of the steak like a normal T-bone.
I cut a piece of the tenderloin side off and served it with some of the veggies for my wife.  I planned to take another pic with a full steak on my plate and just didn't.  Ate the whole thing before I even thought about taking a pic so you will have to use your imagination.
After serving it up, I cut the rest into strips for storage and had steak for days.  It was a good week.
One other word of advice, if you can get the butcher to cut the roast for you, make sure he does not trim the fat.  That rind of fat got crispy in the oven and was probably the best part of the roast.  So good!
So in short, here is how you cook a T-Bone roast.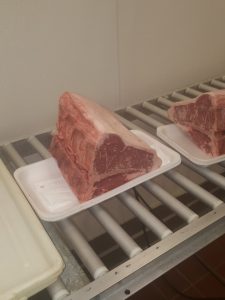 Yield: 15 servings
T-Bone Roast
Prep Time: 10 minutes

Cook Time: 3 hours

Total Time: 3 hours 10 minutes

I cooked a 10 lb T-Bone Roast
Instructions
Preheat oven to 350°
Cut greens off radishes and cut carrots and onions into large chunks
Place veggies in bottom of roasting pan
Combine all spices and rub liberally onto all sides of roast
Roast for 2 and a half hours and begin checking internal temp
Check every 20 minutes until internal temp of 135°-145° is reached
Remove from oven and allow to rest for 10 minutes

And now, an obligatory pic of my dog enjoying the leftovers.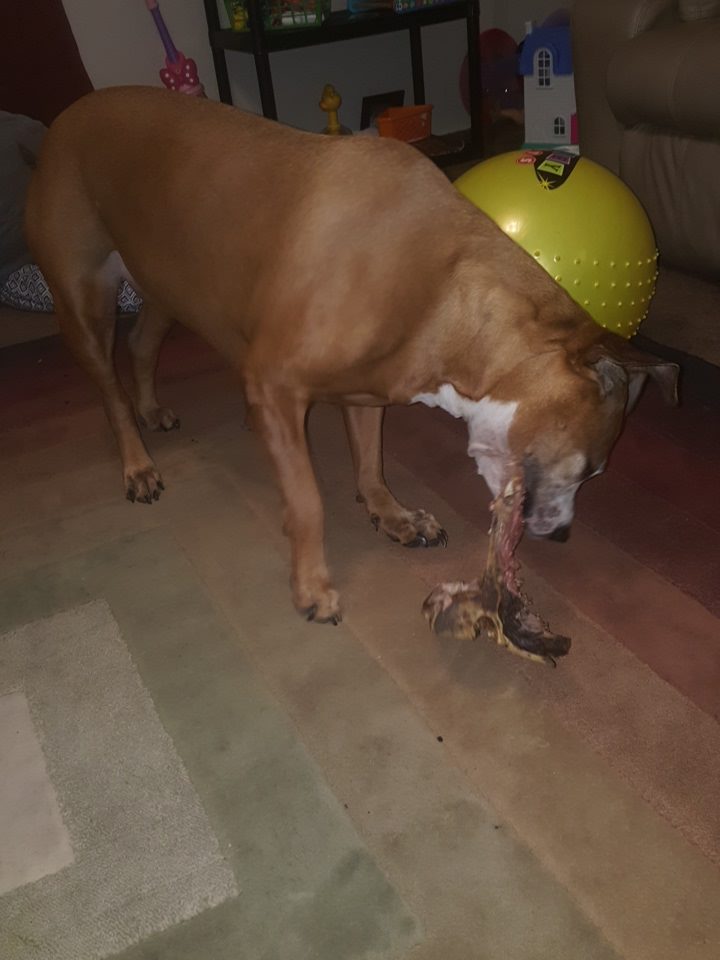 If you do this, I would love to see it and hear you story!  Please take a pic and tag @MySugarFreeJrny on Instagram, thanks!
You can also find all my recipes here.
Don't miss a post! Click here to sign up for our daily email!
Need more info about the ketogenic diet? How about a great support group? Join our Ketogenic Facebook support group!