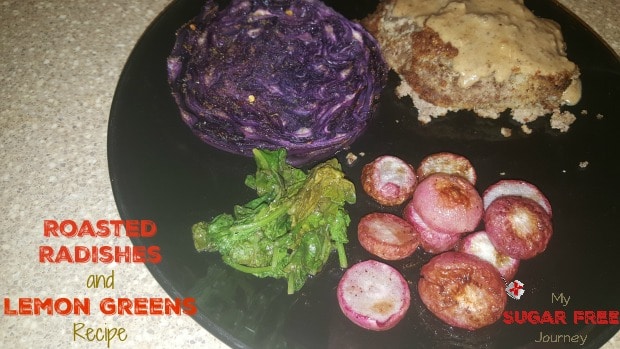 Sooo…radishes.  If you had told me a few years ago that I would be voluntarily eating radishes I would have told you that you were out of your mind.  They were never a part of the food I ate growing up and my only exposure to them was something weird on those huge salad bars that I avoided.  As I worked to expand my "food vocabulary" I was always buying different foods that weren't a part of my regular routine and trying out different recipes.  I tried Spaghetti Squash and loved it, started baking cabbage and was impressed with the taste and just generally went on a tear where I would try something new every week.
Then I bought a bunch of radishes.  They just kind of sat there in my fridge forever until I finally gave up and threw the bag of mush they had become away.  Fast forward a few weeks and I decided to try again.  This time I wanted to not only use the radishes but the greens as well.  It took a few tries before I found something I was happy with but I ended up with something really tasty and easy to make.  Best of all, it's a very versatile recipe.  I'm going to show you one way to season the radishes but you can put almost any spice mix on them and because the radish flavor is so mild, you can make them taste like almost anything.
First trim the greens off the tops and set aside, then cut the radishes in half and rinse both the radishes and the greens.
Melt 2 Tbsp of butter in a bowl you can cover, put the radishes in the bowl along with your seasoning and shake well to coat.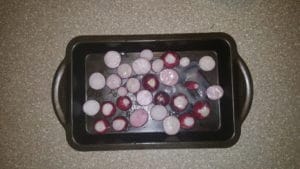 Put the radishes on a sheet and bake on 350° for about 20 minutes until soft.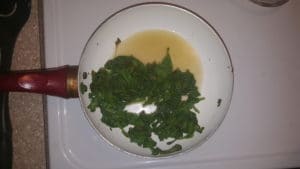 With abut 5 minutes left on your radishes, put your greens in a skillet with a tsp of butter, a tsp of lemon juice and about a tsp of salt to taste.  You just want to cook them a little until the greens wilt.  If you cook them for too long, they get REAL bitter.  Trust me, it's not good,
Once those radishes are soft and a bit brown, you are good to go.
I have them served here with some baked cabbage and my low carb chicken fried steak.  So good!
If you decide to make this recipe, I would love to see it!  Tag @MySugarFreeJrny on Instagram and I'll get that notification.  You can also see all my recipes here.
Here's the printable recipe.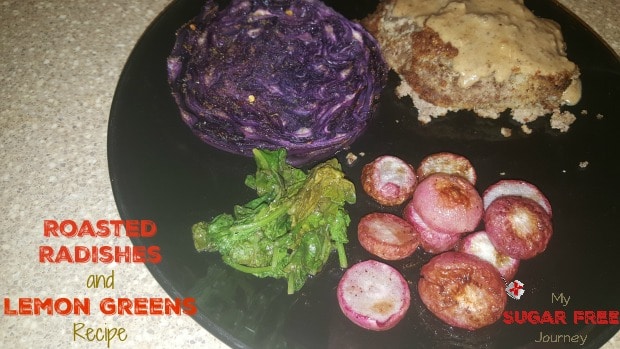 Yield: 4-6 servings
Roasted Radishes and Lemon Greens
Prep Time: 5 minutes

Cook Time: 20 minutes

Total Time: 25 minutes
Ingredients
1 bunch of Radishes with greens
3 Tbsp butter
1 tsp lemon juice
2 Tsp salt
1 Tsp pepper
Instructions
Trim greens off radishes and rinse both
Cut radishes in half
Melt 2 Tbsp of butter in bowl, place radishes in bowl with 1 tsp each of salt and pepper, toss to coat
Put radishes on sheet and bake at 350° for 20 minutes
Place greens in skillet with 1 tbsp butter, lemon juice and rest of salt.
Saute for a few minutes until greens are wilted.

Don't miss a post! Click here to sign up for our daily email!
Need more info about the ketogenic diet? How about a great support group? Join our Ketogenic Facebook support group!