It's been a while since I've done a new recipe for this site, mainly because the longer I'm keto, the more my meals consist of grilled meat and a side or two.  Doesn't mean I don't like to try new recipes, it just means that my default is throwing stuff on the grill.
However, a few things all converged last week that made me want to try something new.  #1, my grocery store put short ribs on clearance.  I don't normally like to buy short ribs because they are usually $6-$8 a pound and most of that weight is bone.  I like meat and not spending very much money so most of my meals consist of the cheapest meat I can find.  And #2, Kettle and Fire contacted me about sponsoring my podcast and were nice enough to send me a few boxes of their broth.  I gotta say, I don't normally have much to do with beef broth because I don't normally buy the cuts of meat with the bones I would need to make it (as opposed to chicken broth which I make about twice a month and cook everything in) but my goodness, I might be missing out.  Their beef broth was almost creamy and made this recipe absolutely amazing.  The best part is as a sponsor, if you want to grab some for yourself you can either click here to order or use code MYSUGARFREEJOURNEY at checkout to save 10%.  Great stuff!
Keto Braised Short Ribs Recipe Walkthrough
I actually made this recipe twice so the recipe I've included here are from the second time after I tweaked a few things. I'm a bit of a "trial and error" chef but thankfully I've been a bit inspired lately from my monthly conversations with Carrie Brown. The full recipe is included below but this is the walkthrough on how I did it.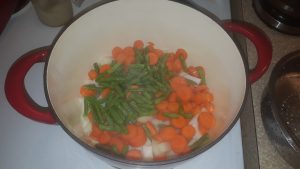 First I preheated the oven to 350° and put my dutch oven on the stove over medium heat. I melted 2 tablespoons of coconut oil in the pan and chopped up 2 onions. 4 carrots and about a half pound of green beans. Threw them in the pot and sauteed them for maybe 5 minutes.
Next up I took all the short ribs and laid them out on my cutting board and absolutely coated them with kosher salt and pepper. Now I like a LOT of salt so you will have to adjust according to your taste nut I find it almost impossible to put too much salt on something. After you salt the meat, let them sit for a few minutes.
Next I transferred the veggies to a plate, out another 2 tablespoons of coconut oil in the dutch oven and cranked the heat to high. Then I put the ribs in the pan for about 45 seconds on each side, just enough to give them a nice sear. Then I transferred all the ribs to another plate. Then I poured the red wine into the pan and scraped up any brown bits from off the bottom of the pot. Be careful because the wine will be boiling and you don't want to splash yourself.
Then turn the heat down to medium and add the Kettle and Fire Bone Broth and tomato paste to the wine.  Stir until tomato paste is dissolved.  Add veggies and then ribs to the pot, place sprigs of Rosemary and Thyme on top of ribs, cover and bake for 2.5 hours.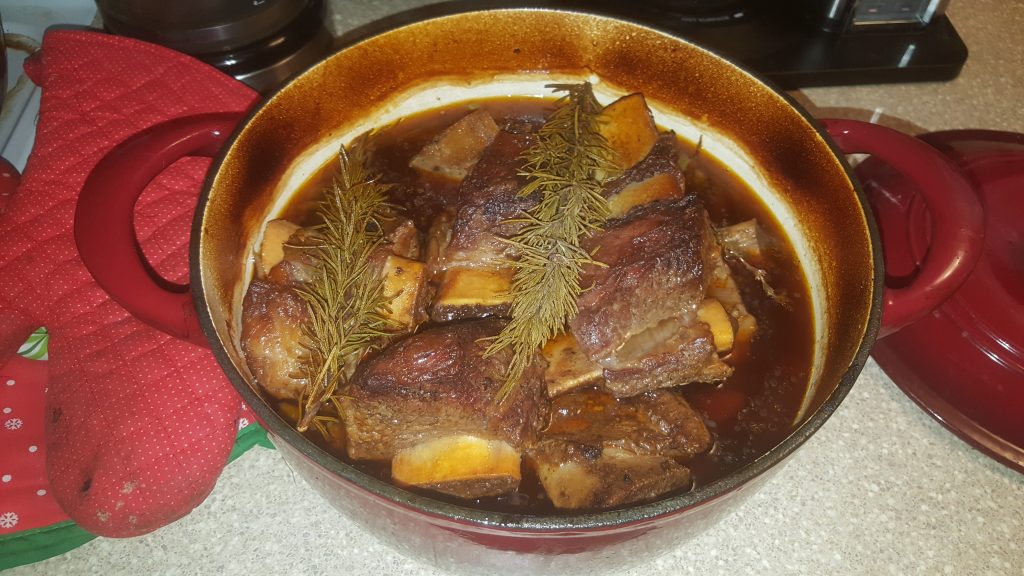 Once you remove from the oven, let it sit for about 30 minutes.  The ribs should be falling off the bone and be fork tender.  Serve over some cheesy cauliflower mash and ladle the wine and broth mix liberally over the meat and veggies. Enjoy!
You can find all my recipes here.  If you make this, please give a shout out to @MySugarFreeJrny on Instagram or leave a comment below.  Thanks!
Keto Braised Short Ribs Recipe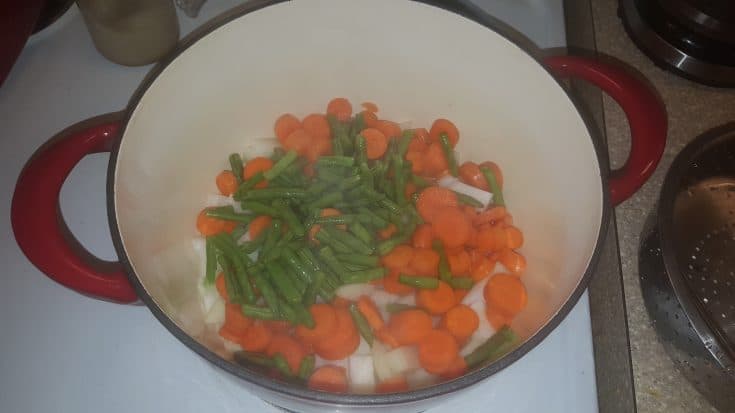 Yield:

6 servings
Keto Braised Short Ribs
Total Time:
3 hours
20 minutes
My delicious low carb recipe for braised short ribs
Ingredients
4 Tablespoons coconut oil
2 onions, diced
4 Carrots, sliced
1/2 lb green beans, cut about 1 inch long
4 lbs short ribs
1 cup dry red wine (or cooking red wine)
1 4 oz can of tomato paste
Salt and pepper to taste
2 sprigs fresh thyme
2 sprigs Rosemary
Instructions
Preheat oven to 350° F
Put half of the coconut oil in a dutch oven over medium heat, add veggies and saute for 4-5 minutes
Salt and pepper ribs heavily
Remove veggies to plate
Place remaining coconut oil in pot and turn heat to high.
Braise ribs on all sides for about 45 seconds per side. Transfer to plate as you finish.
Pour wine into pot and use spatula to scrape bottom pan to deglaze
Turn down heat to medium and add broth and tomato paste. Stir until paste is dissolved
Add veggies and ribs to pot. Bake in oven for 2.5 hours
Remove from oven and let stand covered for 20-30 minutes
Ribs should be fork tender, serve over cauliflower mash.
Don't miss a post! Click here to sign up for our daily email!
:meal2