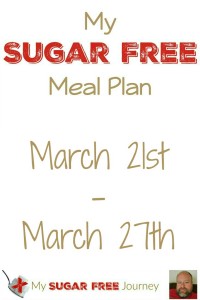 UPDATE:  This is an old post that for some reason still gets tons of traffic.  Unfortunately I no longer do the weekly meal plans but plan on starting them again as soon as I figure out how to make them worth all the time that goes into them.  In the meantime, you can still sign up for our daily email and get a 28 day meal plan by clicking here.  Thanks!
Here is the Sugar Free Meal Plan for this coming week!  This week there really aren't very many great deals on meat in the grocery stores.  In fact, the only thing that looked interesting is Kroger has eggs on 2 dozen for $5 so I've definitely got an Omelette night in the mix.
Just like last week, I've got a pdf available for download when you sign up for my daily newsletter by clicking here.
Please let me know what you think of these plans, I would love to hear from you with any helpful feedback.
Sugar Free M
eal Plan for March 21st-March 27th, 2016
Instructions:
All recipes are for 2 people.  Just double recipe for 4 people or triple for 6.
Meats

2 Chicken Breasts

Pork Loin

½ dozen eggs

Bacon

1 Lb Hamburger Meat

Pork Ribs

NY Strip Steak

Whole Chicken

Produce

1 lb Spinach

4 Roma Tomatoes

3 Onion

2 Avocados

Garlic

Cauliflower

Brussels Sprouts

Bell Pepper

Rutabaga

Sliced Mushrooms

Carrots

2 Zucchini

1 Yellow Squash

Broccoli

Fresh Green Beans

Spices

Sugar Free Fajita Seasoning
(Here are 2 examples. #1, #2)

Rosemary

Kosher salt

Pepper

Onion Powder

Garlic Powder

Cocoa Powder

Chili Powder

Cinnamon

Cumin

Ground Coriander

Ginger

Red Pepper

Thyme

Oregano

Other

Butter

Milk

Cheddar Cheese

Olive Oil

Lime Juice

Meat Thermometer

Ziploc Bags
Monday March 21st
Chicken Fajita Salad
Pan fry 2 sliced Chicken breasts and a sliced onion in a little butter until internal temp of 165° is reached

Season with a store bought Fajita seasoning that contains no sugar (pretty easy to find actually) or you can use my

Sugar Free Taco Seasoning recipe

Add Spinach, diced tomatoes to bowl.  Top with Chicken and onions and a ½ an avocado, sliced.  Top with Sour Cream.
Tuesday March 22nd
Rosemary Garlic Pork Loin with Cauliflower Mash and Roasted Brussels Sprouts
Pork Loin
Place pork loin on sheet of aluminum foil

Cut 3 slits down from the top of the loin equidistant apart. (

Instructional Video

)

Stir 2 Diced Garlic cloves, 2 finely chopped strand of Rosemary, and 1 Tbsp Kosher salt into 2 Tbsp melted butter.

Brush butter mixture across top of loin and down into slits

Fold up sides of foil so juices are held next to loin while cooking

Cook at 350 degrees until an internal temperature of 185 degrees is reached

Let rest for 3-5 minutes before serving
Steam cubed ½ head of Cauliflower until fork passes easily through, approx 15 minutes

Place into food processor with 2 Tbsp butter, a splash of milk and ½ cup of shredded cheddar cheese

Blend until smooth
Roasted Brussels Sprouts
Put 1 Tsp Olive oil into frying pan and warm
Chop Brussels Sprouts in half length-wise, place face down into oil, turn heat up to medium high

Cook until bottoms are dark brown and flip over

Cook until soft, season with salt and pepper
Wednesday March 23rd
Omelette Night with Bacon
Dice ½ an onion, ½ a Bell Pepper and a Roma tomato

Scramble 3 Eggs

Melt a Tsp of Butter in a small frying pan and add Onions and Peppers, cook until soft

Pour in Eggs, use a spatula to pull up lip of eggs as they cook and tilt pan so liquid eggs runs into bottom of pan

Just before eggs are fully cooked, add tomatoes and shredded Cheddar Cheese.

Fold omelette in half when fully cooked (Or leave it open and call it a frittata). Place under towel to keep warm and repeat above steps for 2nd omelette

Cook Bacon for side
Thursday March 24th
Hamburger patties covered with mushrooms and onions with Rutabaga fries and guacamole
Rutabaga fries
Cut both ends off a Rutabaga, peel and slice into french fry sized strips (

Instructional video

)

Place on baking pan with 4 Tbsp butter and season with salt (Sometimes I add parmesan cheese and garlic powder)

Cook on 350° until soft, about 35 minutes. Turn the Broiler on for the last 5 minutes to brown on top
Hamburgers with mushrooms and onions
Pat out 2 ¼ Lb Hamburger Patties and slice ½ an onion

Fry patties in frying pan, add sliced onion and mushrooms to cook with meat, season with salt and pepper

Place on paper towels to drain
Easy guacamole
Peel and cube an avocado, add to bowl with diced roma tomato

Season with 1 Tsp lime juice, ½ tsp pepper, ½ tsp salt, ½ tsp onion powder and ½ tsp garlic powder, mix well
Friday March 25th
Cocoa Chili Rubbed Pork Ribs with Steamed carrots and Oven roasted Zucchini
Combine

2 Tbsp Cocoa Powder, 1 Tbsp Chili Powder, 1 Tbsp Kosher Salt, 1 Tsp Cinnamon, 1 Tsp Cumin, 1 Tsp Coriander, 1 Tsp Onion Powder, 1 Tsp Garlic Powder, and ½ Tsp Ginger into bowl and shake well.

Apply liberally over a rack of pork ribs

Place on baking sheet and cook in oven on 350° until an internal temperature of 165° is reached, approx 30 minutes

Chop 2 Carrots and steam until soft

Slice a Zucchini into rounds, drizzle with olive oil and season with salt and pepper.  Bake in oven with Ribs for the last 10 minutes.
Saturday March 26th
NY Strip Steak with steamed squash and broccoli
Cook steak in pan with butter or grill outside until medium well

Cut squash and broccoli and steam until soft, add butter and salt
Sunday March 27th
Slow Cooker chicken with Garlic green beans and Lime Cauliflower
Line bottom of slow cooker with diced onion and celery

Mix 1 tsp Kosher salt, 1 tsp Black Pepper, ½ tsp Red Pepper, 1 tsp garlic powder, 1 tsp onion powder, 1 tsp thyme, and ½ tsp oregano in bowl and rub on skin of chicken

Place in slow cooker on low for about 4 hours (Will feed 4-6 people)

Cut ends off fresh green beans and place in ziploc bag.

Put ¼ cup of olive oil, 2 Tsp of garlic powder and 2 Tsp of salt in bag.  Mix well and let marinate for at least 2 hours

Cube ½ a head of Caulifower and place in small casserole dish

Sprinkle with Olive oil, lime juice, and salt

Bake Cauliflower at 350° until soft