Looking for more great low carb menu items
at your favorite restaurants?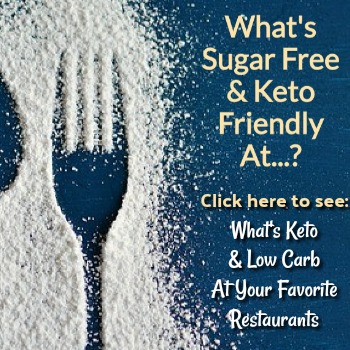 Our series on What is Sugar Free and Keto Friendly at Restaurants continues with a look at Olive Garden!  (Per special reader request.  Have a restaurant you want us to cover?  Leave it in the comments below!)
Olive Garden is a particularly tough nut to crack because they don't give us ingredients, they do give us some nutritional info which is helpful but the carb counts include the pasta that we aren't eating.  It would appear that the safest thing to do is to get the Sirloin with a side of broccoli and Parmesan zucchini.  If you are interested, the Alfredo has the fewest carbs so if you want a dipping sauce for something, go with that.
The unlimited salad is low carb but the ingredients in the dressings are very difficult to track down.  I know it has 2g of carbs and all of that is sugar so I'm pretty sure it has a small amount of sugar but is it a canola oil base (or some other PUFA)?  Can't say for sure but if I had to put a number to it, I'd say there's a 95% chance it contains PUFAs.  And of course, anything that is fried will be fried in a PUFA.
You can find the full Olive Garden Menu here, the nutritional info here and the main website here.
Having said all that, let's look at what is Sugar Free and Keto Friendly at Olive Garden!
Appetizers
Alfredo Sauce
Shrimp Scampi
Spinach Artichoke Dip (No Chips)
Chicken Dishes
Chicken Giardino (without the pasta)
Chicken Carbonara
Seafood Dishes
Seafood Alfredo
Shrimp Alfredo
Beef Dishes
6 oz Sirloin
Beef Gorgonzola-Alfredo
Side Dishes
Parmesan Crusted Zucchini
Steamed Broccoli
Looking for more great low carb menu items at your favorite restaurants?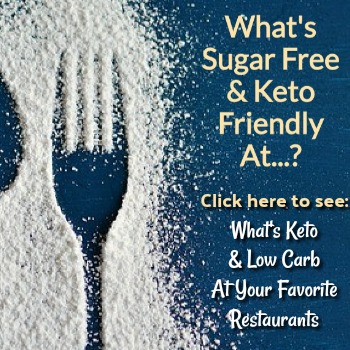 Don't miss a post! Click here to sign up for our daily email!
Need more info about the ketogenic diet? How about a great support group? Join our Ketogenic Facebook support group!