What's Sugar Free at KFC?
Our What's Sugar Free at Restaurants series continues!  Today we are looking at what is both sugar free and keto friendly at KFC.  Fortunately, now that KFC has added their grilled chicken line, it's pretty easy to stay keto at KFC and if you haven't had it yet, it's pretty darn good.  Get the green beans on the side and you've got a sugar free and keto meal that tastes darn good.  The only down side is that's the only option available to us so I hope you like green beans.
As with most restaurants, we don't have any actual ingredient lists to work with but KFC does have a very helpful nutrition guide that at least tells us the total carb content which is a lot more helpful than what other restaurant chains provide.
So here is the short but hopefully helpful list of what is sugar free and keto friendly at KFC.
All Kentucky Grilled Chicken Items
Homestyle Sides
Salads
Dressings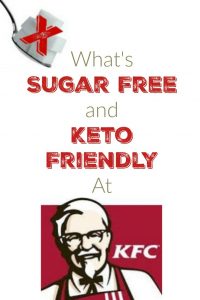 Don't miss a post! Click here to sign up for out daily email!
Need more info about the ketogenic diet? Sign up for our 28 day training program and weekly ketogenic meal plans!