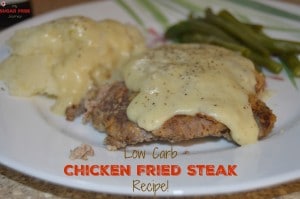 Living in the South, there are some meals that are so culturally ingrained in your life that the idea of removing them from your diet is a bit painful, like you are losing a bit of your history.  For me, that meal is Chicken Fried Steak. (Or Chicken Fried Chicken, but that's a recipe for another day I think.)
As much as I love that meal and it is 100% my go-to whenever we go to a "Southern Home-Cooking" restaurant like Black-Eyed Pea or Cracker Barrel, I just couldn't do it anymore.  Every part of it was determined to make me fatter.  From the flour in the batter and the gravy, to the heaping scoop of mashed potatoes I always had on the side, to the vegetable oil it was cooked in.  So, the hunt was on.  I needed to come up with a way to cook this meal and have it taste awesome but get rid of all those carbs.
Step one was the batter and that turned out to be the easiest to deal with.  Sub in Almond Meal for flour and it makes for an awesome coating for the steaks.  It gets crunchy when you fry it and tastes amazing.
The next part was the oil.  I haven't really talked too much about the different oils on this site but ever since I read David Gillespie's book Seed Oil many years ago, I only use saturated fats in my cooking so that means butter, coconut oil, or olive oil.  There are a few others but those are the big 3.  Sometimes I cook my steaks in coconut oil, sometimes olive oil.  There's no difference in the taste but sometimes I think the gravy tastes a little better with a coconut oil base but that varies on the quality of the olive oil I use.  For some reason, the cheaper the olive oil, the better the gravy tastes.  I have no idea why that is.
Finally, I needed to tackle the gravy and I have to say, this was tough.  To the point that I thought it was going to be impossible.  I tried every single low carb or gluten free flour you could possibly think and nothing would make the dang gravy thicken.  That is until my Walmart started carrying Arrowroot and out of desperation, I picked it up.  I'm happy to say that it actually works!  It doesn't work very fast and you have to whisk the gravy constantly but if you will stick with it, it comes together pretty nicely.  Don't use too much though, you will have a gummy mess on your hands.
Also, just as an aside, I also bought a plastic whisk so I could whisk to my heart's content and not worry about scratching my pan with a metal one.  Also, if you want a low carb mashed potato substitute, check out my recipe for mashed cauliflower.
If you decide to make this recipe, let me know how it goes!  Send me a picture or tag @MySugarFreeJrny on Instagram so I can see.  Please also subscribe to my daily email to never miss a post or to my YouTube channel to never miss a recipe.  Thanks!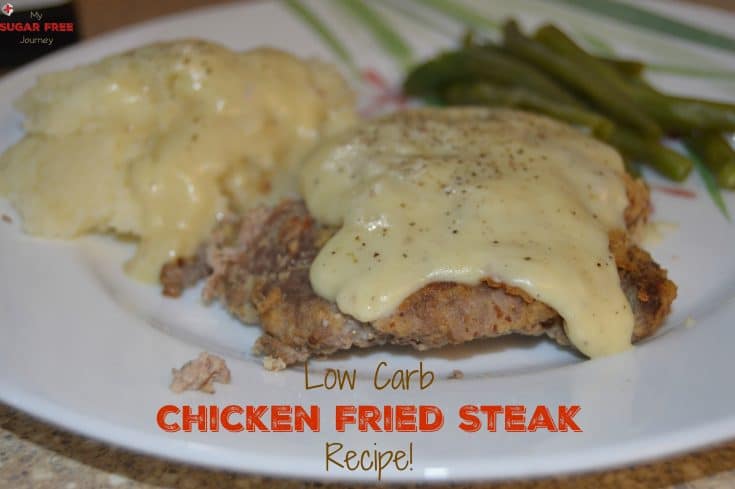 Yield: 4 Servings
Low Carb Chicken Fried Steak
Prep Time: 10 minutes

Cook Time: 30 minutes

Total Time: 40 minutes

A tasty, low-carb Chicken Fried Steak recipe
Ingredients
4 Cube Steaks
1 Cup Almond Meal
1 Egg
1 1/2 Cup Milk
Olive or Coconut Oil
1 Tbsp Arrowroot
Salt
Pepper
Instructions
Salt and pepper steaks liberally
Place Almond meal on a plate and whisk together the egg and 1/2 cup milk on a second plate
Coat steaks with almond meal, place in egg mixture, then put back into almond meal
Heat up oil in skillet over medium high heat, enough to cover half the steak's thickness
Cook steaks about 7 minutes on each side until done
To make gravy, pour off all but about 2 TBSP of the oil, keeping any of the almond meal that flaked off the steaks in the skillet
Pour in one cup of milk and 1 Tbsp of Arrowroot and whisk constantly. If gravy doesn't thicken, add small amounts of arrowroot until it becomes the consistency you like.