My Sugar FREE Journey Keto Picks!
So, here are my picks for some gifts you might want to think about for yourself or someone else!
My Sugar Free Journey My Sugar FREE Journey Keto Picks!:
Robert Lustig's 90-minute YouTube video Sugar: The Bitter Truth has been viewed more than two million times. Now, in this much anticipated book, he documents the science and the politics that has led to the pandemic of chronic disease over the last 30 years.
In the late 1970s when the government mandated we get the fat out of our food, the food industry responded by pouring more sugar in. The result has been a perfect storm, disastrously altering our biochemistry and driving our eating habits out of our control.
To help us lose weight and recover our health, Lustig presents personal strategies to readjust the key hormones that regulate hunger, reward, and stress; and societal strategies to improve the health of the next generation. Compelling, controversial, and completely based in science, Fat Chance debunks the widely held notion to prove "a calorie is NOT a calorie", and takes that science to its logical conclusion to improve health worldwide.
Leading health blogger Jimmy Moore and researcher and internist Dr. Eric C. Westman join forces again to explain the powerful therapeutic effects of a ketogenic diet-one that combines a customized carbohydrate restriction, moderation of protein intake, and real food-based fats-which is emerging in the scientific literature as a means for improving a wide range of diseases, from Type 2 diabetes to Alzheimer's and more. Simply eating a low-carb diet alone isn't enough, and Moore and Westman tell you why.
Are you confused by what your cholesterol levels really say about your health? Don't you wish someone could just spell it out in simple English and tell you what, if anything, you need to do to improve your heart and overall health? That's precisely what Cholesterol Clarity is designed to do. Jimmy Moore, a prolific and highly respected health blogger and podcaster, interviewed 28 of the world's top health experts from various fields to give you the complete lowdown on cholesterol. He and his co-author, family practitioner and researcher Dr. Eric Westman, have broken down this critical information for you to know what is most important and what is not.
Thousands of books have been written about the latest and greatest diets that will help people lose weight and improve health. But a key element in any successful nutritional health program is a tried-and-true method that most people haven't thought about – yet it could be revolutionary for taking health to the next level. This ancient secret is fasting.
The Complete Guide to Fasting explains:
Why fasting is actually good for health
Who can benefit from fasting (and who won't)
The history of fasting
The various ways to fast: intermittent, alternate-day, and extended fasting
What to expect when starting to fast
How to track progress while fasting
The weight loss effects of fasting
How to ward off potential negative effects from fasting
A self-published phenomenon examining the habits that kept our ancestors disease-free – now with a prescriptive plan for the Human Diet to help us all live long, vital, healthy lives.
Physician and biochemist Cate Shanahan, MD, examined diets around the world known to help people live longer, healthier lives – diets like the Mediterranean, Okinawa, and Blue Zone – and identified the four common nutritional habits, developed over millennia, that unfailingly produce strong, healthy, intelligent children and active, vital elders generation after generation. These four nutritional strategies – fresh food, fermented and sprouted foods, meat cooked on the bone, and organ meats – form the basis of what Dr. Cate calls the Human Diet.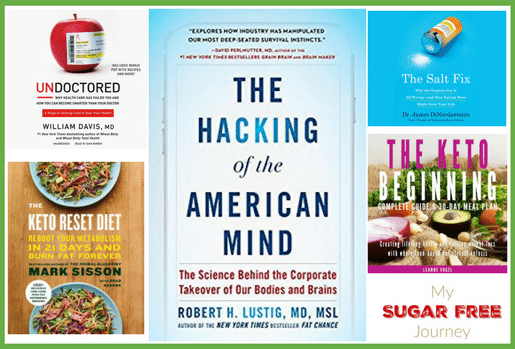 Conventional health care is no longer working in your favor – but thankfully, Dr. Davis is.
In his New York Times best seller Wheat Belly, Dr. William Davis changed the lives of millions of people by teaching them to remove grains from their diets to reverse years of chronic health damage. In Undoctored, he goes beyond cutting grains to help you take charge of your own health. This groundbreaking exposé reveals how millions of people are given dietary recommendations crafted by big business, are prescribed unnecessary medications, and undergo unwarranted procedures to feed revenue-hungry healthcare systems.
The New York Times best-selling author of Fat Chance reveals the corporate scheme to sell pleasure, driving the international epidemic of addiction, depression, and chronic disease.
While researching the toxic and addictive properties of sugar for his New York Times best seller Fat Chance, Robert Lustig made an alarming discovery – our pursuit of happiness is being subverted by a culture of addiction and depression from which we may never recover.
Dopamine is the "reward" neurotransmitter that tells our brains we want more; yet every substance or behavior that releases dopamine in the extreme leads to addiction. Serotonin is the "contentment" neurotransmitter that tells our brains we don't need any more; yet its deficiency leads to depression. Ideally, both are in optimal supply. Yet dopamine evolved to overwhelm serotonin – because our ancestors were more likely to survive if they were constantly motivated – with the result that constant desire can chemically destroy our ability to feel happiness, while sending us down the slippery slope to addiction. In the last 40 years, government legislation and subsidies have promoted ever-available temptation (sugar, drugs, social media, porn) combined with constant stress (work, home, money, Internet), with the end result of an unprecedented epidemic of addiction, anxiety, depression, and chronic disease. And with the advent of neuromarketing, corporate America has successfully imprisoned us in an endless loop of desire and consumption from which there is no obvious escape.
We all know the dangers of sugar and salt: but the danger attributed to the second white crystal has more to do with getting too little of it, not too much. Too little salt can shift the body into semi-starvation mode, causing insulin resistance, and may even cause twice as much fat to be absorbed for every gram that's consumed.
Too little salt in certain populations can also actually increase blood pressure as well as resting heart rate. In order to hydrate and nourish our cells, transmit nerve signals, contract our muscles, ensure proper digestion and breathing, and maintain proper heart function, we need salt.
In this book, a leading cardiovascular research scientist and doctor of pharmacy overturns conventional thinking about salt and explores the little-understood importance of it, the health dangers of having too little, and how salt can actually help you improve sports performance, crush sugar cravings, and stave off common chronic illnesses.
Mark Sisson – author of the mega-best-seller The Primal Blueprint – unveils his groundbreaking ketogenic diet plan that resets your metabolism in 21 days so you can burn fat forever.
Mounting scientific research is confirming that eating a ketogenic diet could represent one of the greatest nutritional breakthroughs of our time – and that it might be the healthiest and most effective weight loss strategy ever. Going "keto" by eating high fat, low-to-moderate protein, and low-carb foods enables you to break free from the disastrous effects of carbohydrate dependency by resetting your metabolism and promoting metabolic flexibility – where your body learns to burns fat instead of sugar for energy, even when you go off plan.
When what you're doing isn't working, The Keto Beginning is the rocket fuel for achieving flawless health and effortless weight loss through sound nutrition practices and vibrant food preparation in ways you've never seen before.
With The Keto Beginning, you'll be shown how to use whole food-based nutritional ketosis to…
Reach your perfect weight without feeling restricted or deprived
Gain the power to end food obsession and strict eating schedules
Maintain steady energy, without relying on constant feeding
Boost self-worth, self-respect, self-trust, and self-love
Achieve total body confidence, regulated metabolism, and liberated health without counting calories
Seventeen chapters and over 70 high fat, low carb, moderate protein, dairy-, gluten-, sugar-, grain-, legume-free recipes, including a 30-day step-by-step meal plan. This is the lifestyle change that empowers your body and mind to achieve the state of health you've been searching for.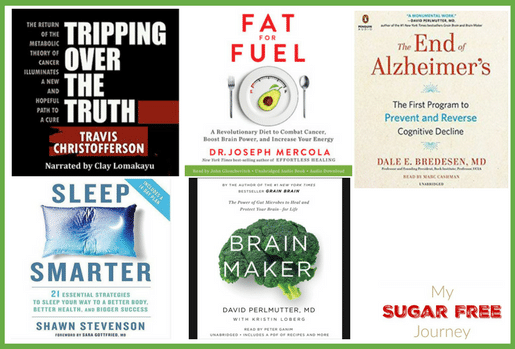 A masterful synchronization of history and cutting-edge science shines new light on humanity's darkest diagnosis. In the wake of the Cancer Genome Atlas project's failure to provide a legible road map to a cure for cancer, science writer Travis Christofferson illuminates a promising blend of old and new perspectives on the disease.
Tripping Over the Truth follows the story of cancer's proposed metabolic origin from the vaunted halls of the German scientific golden age to modern laboratories around the world. The listener is taken on a journey through time and science that results in an unlikely connecting of the dots, with profound therapeutic implications. Transporting us on a rich narrative of humanity's struggle to understand the cellular events that conspire to form malignancy, it flows like a detective novel, full of twists and cover-ups, blind alleys and striking moments of discovery by men and women with uncommon vision, grit, and fortitude.
For over a century, we've accepted the scientific consensus that cancer results from genetic disease due to chromosomal damage in cell nuclei. But what if scientists are chasing a flawed paradigm? What if cancer isn't a disease of damaged DNA but rather of defective metabolism as a result of mitochondrial dysfunction? What if that startling truth could revolutionize our understanding of other diseases, too – and show us a radical new path to optimal health?
In this groundbreaking guide, the first of its kind, New York Times best-selling author and leading natural-health practitioner Joseph Mercola explains how nearly all disease is caused by defective metabolic processes. Then he reveals what's causing your metabolism to go haywire: damage and dysfunction in the mitochondria, thousands of which are at work in nearly every cell in your body, generating energy you need to stay alive and well. When mitochondria are damaged in large numbers, it is impossible to stay healthy.
A groundbreaking plan to prevent and reverse Alzheimer's disease that fundamentally changes how we understand cognitive decline.
Everyone knows someone who has survived cancer, but until now no one knows anyone who has survived Alzheimer's disease.
In this paradigm shifting book, Dale Bredesen, MD, offers real hope to anyone looking to prevent and even reverse Alzheimer's disease and cognitive decline. Revealing that AD is not one condition, as it is currently treated, but three, The End of Alzheimer's outlines 36 metabolic factors (micronutrients, hormone levels, sleep) that can trigger "downsizing" in the brain. The protocol shows us how to rebalance these factors using lifestyle modifications like taking B12, eliminating gluten, or improving oral hygiene.
The best-selling author of Grain Brain uncovers the powerful role of gut bacteria in determining your brain's destiny.
Debilitating brain disorders are on the rise – from children diagnosed with autism and ADHD to adults developing dementia at younger ages than ever before. But a medical revolution is underway that can solve this problem: Astonishing new research is revealing that the health of your brain is, to an extraordinary degree, dictated by the state of your microbiome – the vast population of organisms that live in your body and outnumber your own cells 10 to one. What's taking place in your intestines today is determining your risk for any number of brain-related conditions.
In Brain Maker, Dr. Perlmutter explains the potent interplay between intestinal microbes and the brain, describing how the microbiome develops from birth and evolves based on lifestyle choices, how it can become "sick", and how nurturing gut health through a few easy strategies can alter your brain's destiny for the better. With simple dietary recommendations and a highly practical program of six steps to improving gut ecology, Brain Maker opens the door to unprecedented brain health potential.
When it comes to health, there is one criminally overlooked element: sleep. Good sleep helps you shed fat for good, stave off disease, stay productive, and improve virtually every function of your mind and body. That's what Shawn Stevenson learned when a degenerative bone disease crushed his dream of becoming a professional athlete. Like many of us, he gave up on his health and his body…until he decided there must be a better way. Through better sleep and optimized nutrition, Stevenson not only healed his body but also achieved fitness and business goals he never thought possible.
In Sleep Smarter, Stevenson shares easy tips and tricks to discover the best sleep and best health of your life. With his 14-Day Sleep Makeover, you'll learn how to create the ideal sleep sanctuary, how to hack sunlight to regulate your circadian rhythms, which clinically proven sleep nutrients and supplements you need, and stress-reduction exercises and fitness tips to keep you mentally and physically sharp.
Sleep Smarter is the ultimate guide to sleeping better, feeling refreshed, and achieving a healthier, happier life.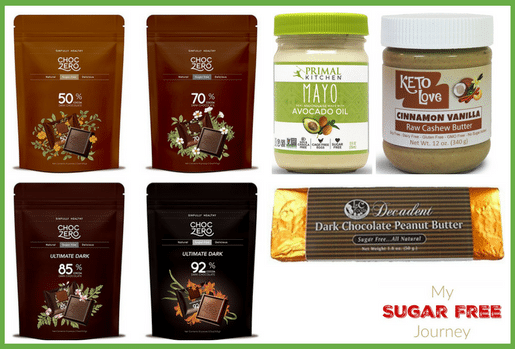 Cracked Candy is sugar free – sweetened with 100% xylitol from trees, and flavored with natural essential oils. Xylitol is a plant-derived, natural sweetener found in many fruits, veggies and trees. Clinical studies repeatedly prove that including xylitol as part of your daily oral health care regime can decrease the risk of cavities, tooth decay and other bacteria-caused problems. Dentists recommend four to eight servings a day to receive full oral health benefits of Xylitol. With no net effect carbs you don't have to feel guilty about tucking in. Warnings keep out of reach of young children and dogs.
1x Lemon, 1x Peppermint, 1x Orange, 1x Cinnamon

Naturally Sweetened with Non-GMO Xylitol

Vegan & Diabetic friendly – does NOT impact insulin levels

Strengthens teeth, Reduces New Tooth Decay and Cavity-Causing Bacteria

Sugar-Free, Non-GMO, Corn-Free, Soy-Free, Gluten-Free, Wheat-Free and Vegan
ChocZero uses fair-trade premium select cocoa beans roasted carefully to keep their flavor then sweetens it with their exclusive monk fruit and fiber blend that contains no sugar alcohols instead of using sugar. The end result is a chocolate that has all of the taste of other artisan chocolates with zero of the regret.
Fair-trade premium cocoa beans, delicious taste!

Sugar free, no sugar alcohols, and no artificial sweeteners. Sweetened with our exclusive monk fruit and fiber blend, perfect for diabetics with zero glycemic impact.

Low carb: only 1g net carbs per serving! Perfect for keto lifestyle and other low carb diets like Trim Healthy Mama.

Antioxidant-rich, teeth-friendly, and good for your waistline!

All natural, non-GMO, gluten free, and kosher certified. Made proudly in the USA.
New LC Decadent Dark Chocolate Peanut Butter Bars are here! Now manufactured by us to ensure the high quality standards you deserve, these large 50g bars are all natural – using only erythritol and stevia as sweeteners. Made using 100% peanuts. No maltitol! No after taste, no gastric distress, and no blood sugar fluctuations! The LC Decadent Dark Chocolate Peanut Butter Bars are low carb and sugar free with only 4 net carbs per entire bar! Tastes delicious! They are also gluten free! Having a chocolate craving? Enjoy our scrumptious bars while you maintain the healthy, low carb lifestyle! Guaranteed to satisfy your sweet tooth! As with all LC Foods low carb products, there's no sugar added (of course!) and no preservatives!
Low Carb, Gluten Free, Wheat Free, No Sugar, All Natural, Diabetic Friendly

4 Net Carbs Per Bar

All Natural Ingredients

Manufactured in the USA
Primal Kitchen Mayo takes us back to our primal roots—pure, nutritious, real food ingredients with no artificial colors, preservatives, or ingredients.  It's the first ever avocado oil-based mayo, made with cage-free organic eggs and vinegar from non-GMO beets whipped into that full, rich classic mayo taste you love.  Because avocado oil boosts the bioavailability of nutrients it's paired with, you increase your body's absorption of antioxidants whenever you add a dab of Primal Kitchen Mayo. And this mayo is free of sugar, gluten, dairy, soy and canola-oil, and non-GMO Project Verified so you can indulge to your taste buds delight. Healthy mayo, who knew?
FIRST EVER AVOCADO OIL-BASED MAYO: Non-GMO Project verified mayo made with cage-free organic eggs and vinegar from non-GMO beets whipped into that full, rich classic mayo taste you will love.

NATURAL INGREDIENTS + HEALTH BENEFITS: Avocado Oil increases nutrition absorption, antioxidants that supports a healthy system and anti-aging and a great source of Vitamin E and beneficial omega-9 fatty acids.

HOMEMADE FLAVOR: Primal Kitchen mayonnaise has a rich, full-flavored classic, homemade mayonnaise taste and supports a healthy paleo and primal diet.

PALEO and WHOLE30 APPROVED: Free of sugar, gluten, dairy, soy, canola, soybean or industrialized seeds, artificial preservatives, fillers and trans fats. Cage-free organic eggs and vinegar from non-GMO beets.

HEALTHY AND DELICIOUS: Our philosophy is every bite of food you eat should be delicious & healthy. Eating organic foods can become boring without sauces, which many contain harmful fats, sugars & artificial ingredients for taste. This is the solution!
At Keto Love,  they could wow you with their list of super clean ingredients, but they choose to focus on their decadent, naturally flavored nut butters. They have dedicated to making small batches to ensure the best tasting products. All of their nut butters contain coconut oil and debittered stevia, so no funky after taste. Each flavor was created to taste like candy on a spoon. Whether you feel like a quick and easy snack or trying to find new creative ways to eat your MCT's, worry no longer. They did the work for you. Eat like a kid again and leave the guilt behind!
Made with Raw Cashews and Raw Vanilla

Cashews are a great source of Magnesium, Copper, and Manganese

No Sugar added. Made with Debittered Stevia so no funky aftertaste.

Gluten Free, Dairy Free, GMO Free, Soy Free, Raw, Vegan, Paleo, Keto Friendly

Best Cashew Butter… Ever!