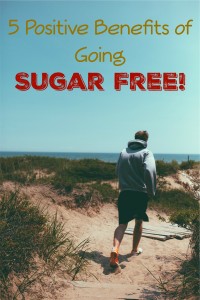 After a couple years of first reducing the amount of sugar I eat, then finally cutting it out altogether, I can tell you that I have been pleasantly surprised at the myriad of positive effects it has had on my body, my health, and my relationships.  I kind of expected (hoped!) to see the weight loss but I was really amazed at all the other things that have happened to me.  There was a time that I just assumed I was always going to be obese and there wasn't much that could be done about it, but now I can foresee a time when I could look at my body in the mirror and see someone thin and healthy.  Here a few of the Positive Benefits I've seen in my life once I cut out the sugar.
Weight Loss – Honestly, this was the big one.  If I hadn't expected to lose weight once I started this journey, I probably never would have done it.  I chronicle my weight loss on my Weightloss Wednesday posts and I use 300 lbs as the starting point because that's what I weighed on January 1, 2016 but what I don't make a big deal about is the fact that forever ago, long before I started this blog, i was tipping the scales at over 400 lbs.  I don't know how much over I was because I didn't have access to a scale that would actually weigh me.  The highest number I've ever seen on a sale was 388 but looking back at those old pictures, I know I was somewhere north of that.  But I've come a long way since then and I have been excited to see the weight on my scale every morning.
More Energy – This was one of those benefits I really didn't expect to happen.  In fact, if you had asked me at 400 lbs what my energy level was, I probably would have said that it was fine because I just didn't know any better.  But I also liked to take naps and did little more than watch TV at night, I just didn't know what "high energy" meant.  Now, even though I'm still way above my target weight, I can feel how much more energy I have.  I don't take naps and I can do moderate physical activity (like play with my grandkids) without feeling that I need to take a breather afterwards.
Increased Desire to Exercise – This benefit REALLY took me by surprise.  I was never one for exercise because it seemed like nothing I did actually worked and I could never muster up the willpower to continue any regimen for any long period of time.   Now that I don't have those up and down crazy sugar energy spikes and crashes and my body is using its own fat for power, it feels really weird to not exercise.  In fact this year I committed myself to follow the Miracle Morning which requires me to wake up a little earlier than normal.  I picked a time that was pretty early for me at the beginning and as I've gotten used to the early wake-up, I've been able to push the time back a little earlier each week.  Now I'm up and doing yoga before the sun comes up and riding my bike a few miles after work and it feels odd if I happen to miss a day.  Almost like if you went to work and forgot to brush your teeth or put on deodorant, something is just…off.   (Of all the benefits I've experienced since doing this, this one was the one I didn't see coming but probably have enjoyed the most.)
Decreased Joint Pain and Headaches – I really debated over this one because I've since learned that it probably wasn't the sugar that was causing this but I wanted you to hear my story.  I used to have a lot of pain in my knees and ankles, mostly in my right leg.  It would really flare up on Saturdays when I was roaming around Walmart getting my Reverse Coupon Matchups research done for my other site.  Once I started cleaning up my diet, the pain dissipated over time and now the only time I really feel it is when I spend all day on my feet.  At the time, I just assumed it was because of the sugar but after reading Dr Perlmutter's excellent book Grain Brain,  I now believe that this benefit came more from the fact that when I stopped eating sugar, I also cut out most grains as well.  According to Perlmutter, grains are a natural inflammatory agent in the body and can cause joint pain, headaches, arthritis, ADD and a host of other common medical ailments.
Better Mood Control and Mental Focus – There was nothing worse than me on a sugar crash, I would pretty much just roam around the house like Godzilla through Tokyo griping at all of life's little annoyances.   Now I am generally in a much better mood and have the ability to focus on tasks for longer periods of time.  Generally, I feel like I have a greater measure of self-control and have the ability to make better choices about how to react to what life brings me.
Have you noticed any benefits from not eating sugar?  I would love to hear about them in the comments!