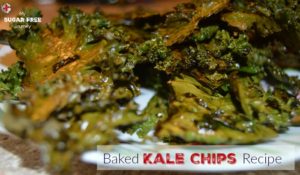 Baked Kale Chips Recipe!
So I love crunchy things.  One of my favorite snacks in those old 400 lb days was chips and salsa in front of the TV.  Sure now I have pork rinds but sometimes you want a snack that's a little different but still has that crisp texture and tastes great.  That's where baked kale chips come in as a great snack that is easy to make.  We will sometimes do this as a side dish for dinner as well when I want something a bit different.
Kale is a fantastic food and probably one we should all be eating more of.  It's high in fiber and Vitamins A, C, and K and has magnesium and folate as well as calcium.  It also has 10% of the RDA of Omega-3 fatty acids that protect against inflammation, use a good olive oil in this recipe and that number goes up.
You can see all my recipes here and if you decide to make this, tag @MySugarFreeJrny on Instagram so I can see it!
Yield: 2 servings
Baked Kale Chips
Prep Time: 10 minutes

Cook Time: 20 minutes

Total Time: 30 minutes

A light and crispy snack that is healthy and tasty!
Ingredients
6 Fresh Kale leaves
1 Tbsp Olive Oil
1 Tsp Sea Salt
1 Tsp Black Pepper
Instructions
Preheat oven to 300° and grease a cookie sheet
Cut center stem out of Kale leaves and arrange leaves on cookie sheet
Drizzle leaves with olive oil and use a silicone brush to spread the oil evenly on the leaves
Season with Salt and Pepper
Bake for 20 minutes until crispy