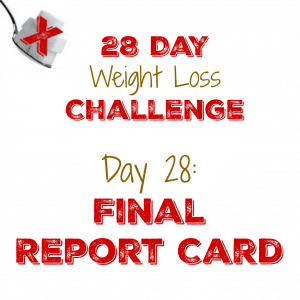 Over the course of our 28 Day Weight Loss Challenge our Daily Recap videos  will be where I post the notes I have written for the talks I do in the FaceBook Group each night.  Hopefully this will make what we are talking about easier to follow for everyone that wants to join us in the challenge.  You can see each of the 28 Day Challenge recap posts here.  Please subscribe to the YouTube channel to never miss an video.
The 28 Day Challenge is over and now we get to look at the results!
We started on May 23rd and I was sitting at 265.9 lbs.  As of this morning I am at 256.7, a loss of 9.2.  This is right in line with my goal of losing 2-4 lbs a week consistently so I am thrilled with how slow and steady the weight loss has been.  More importantly, I am so close to being a total of 150 lbs down that I can taste it!  That's going to be a good day.
Also my waist went from just a smidge over 52″ to just a hair under 51″ so I'm calling it an inch and a quarter lost there.  That's really exciting because I know it's that visceral fat around the midsection that causes the most damage to your body.
It also just so happens that I got the lab results in from my last doctor's appointment this morning and every single blood marker is in the normal range which is absolutely amazing because I can't remember the last time that happened.
Probably the most encouraging thing was listening to the other stories from the people who took the Sugar Free weight Loss Challenge with me in the FaceBook room.  People have reported the same slow and steady weight loss that I experienced with one person losing 14 lbs(!).
The main takeaway from this is that if you want to lose weight, just cut out the carbs and sugar.  Once those are gone, you body sheds pounds slowly and steadily and that's the kind of weightloss that is both healthy and sustainable.
Don't miss a post! Click here to sign up for our daily email!