Tater tots are awesome.  Something about that little cylinder of chopped potatoes, deep fried to a golden brown has always made me happy.  Whether they were on that grade school lunch tray or in my Sonic order, they were always my go to side dish for my hamburger.  Sure, every once in a while I had an onion ring or two but those delicious tots were always my first love.
Now that I'm getting rid of the carbs and sugar from my life, I had pretty much resigned myself to never having tots again.  I was sad but with how quickly the weight is coming off I figured I could deal with it.  But then I started experimenting with cauliflower and figured out there is a way to get that tasty tot flavor without any of the carbs!  It took a few batches to get the recipe down but now I have an awesome alternative that has none of those pesky carbs that have filled my life with fat and pain.  This recipe is also good for Paleo, vegan, vegetarian and whole food diets so dig in!
I make my tots a half a head of cauliflower at a time and it makes more than enough for 3 people.  You can use a full head if you have more to feed but I am always surprised at how far the cauliflower goes.
Cut the cauliflower into small enough pieces to fit in your food processor and shred it into small pieces.  If you don't have a food processor, you can get one here or just hand shred it with a cheese grater.  You could probably use the exercise. 🙂
Throw the shredded cauliflower in a steamer pot and steam it for about 5 minutes.  You don't want it real soft but definitely cooked.  If you steam it a little longer, you've got a great cauliflower rice dish you can use as a side.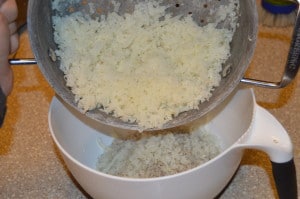 In a bowl, add an egg, 1/2 a finely diced onion, 1/2 cup of almond meal and about 1/2 tsp each of salt and pepper.  If you like your tots spicy, you can throw in a little finely diced jalapenos if you want.  Mix it all up until uniform.  No need to throw it in a mixer, a few stirs with a wooden spoon will be plenty.
To make the tots a uniform size, I used a teaspoon to scoop out the mixture, then scoop the mix out of the spoon with your fingers and shape it into the shape of a tater tot as best you can.
Put them in a greased pan and cook on 350° for about 30 minutes until firm.  Use a spatula to scoop them off and serve with some sugar free ketchup.  It's so good!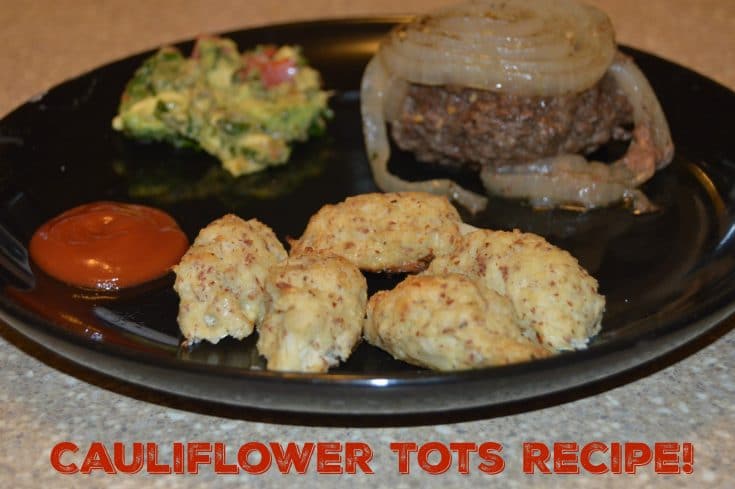 Yield: 4 Servings
Low Carb Cauliflower Tots
Prep Time: 15 minutes

Cook Time: 30 minutes

Total Time: 45 minutes

Now you can enjoy tater tots without all those carbs!
Ingredients
1/2 head Cauliflower
1 Egg
1/2 cup Almond Meal
1/2 Onion, finely diced
1/2 tsp salt
1/2 tsp pepper
Instructions
Shred 1/2 a head of Cauliflower and steam for 5 minutes
Combine all ingredients in bowl and mix thoroughly until uniform
Scoop out 1 Tbsp sized bits of cauliflower mix and shape to look like tots
Bake at 350° for 30 minutes until firm