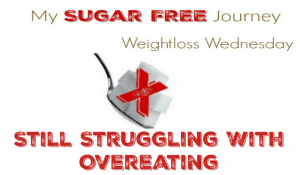 It's time for Weightloss Wednesday!  I am currently writing this as I watch Beauty and the Beast for what feels like the millionth time as I babysit the most beautiful Granddaughter in all the world. I'm finding myself singing "Be Our Guest" to myself pretty much all day long and am ready for a new movie.   The great thing about boys is at least you can watch movies with explosions instead of showtunes. 🙂
Getting into the reason why we are all here, I am at 239.1 lbs as of this morning which means I am down 160.9 lbs over all.  Which is all good news but I seem to be a bit stuck here.  I know part of my problem is that for some reason I have been eating a lot more food lately.  I'm not sure what exactly sure what is going on but I find myself with far more food on my plate than normal.  I'm not gaining weight because I don't eat carbs but I'm not losing weight because I am eating too much food.  If there is any one thing I need to focus on for the next leg of my sugar free journey, it is portion control.  There is just no need for enough food for 3 people on every plate.
As far as exercise goes, I was doing some stretching this week and tweaked my back.  I've never had any back pain before in my life so this has been a new experience for me.  I've just been resting and not doing any exercise this week and I think it's getting better.  I think it will be a at least a few days before everything is back to normal on that front.
How are you progressing?  Let me know in the comments below!
Please remember to subscribe to the YouTube channel to never miss a video and come see me over on Instagram.
Don't miss a post! Click here to sign up for our daily email!
Need more info about the ketogenic diet? How about a great support group? Join our Ketogenic Facebook support group!