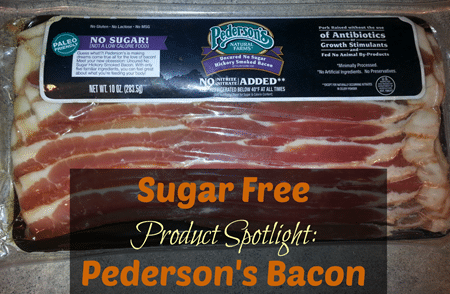 There are certain things that are dang near impossible to find sugar free.  One of the things I missed most was bacon.  I tore my local supermarkets apart, scouring dozens of packages of bacon looking for a variety that left sugar off the ingredients list but looked in vain.
Finally my search came to an end at my local Whole Foods.  After looking through about 15 different varieties of bacon I finally saw my bacon flavored Holy Grail.  Pederson's bacon is uncured with no preservatives or sugar. It has no Gluten, no Lactose, and no MSG.  In fact it only has 5 ingredients; pork, water, salt, vinegar and celery powder.
The best part is that it tastes great!  Just like bacon should taste.  It's a little pricey at $8.99 for a 10oz package, that works out to about $14.24 a pound.  But honestly, it's worth it.  Now that I've got bacon and eggs back in my breakfast rotation, life is sweet even without the sugar.
UPDATE: You can now order a box of 10 from Amazon!
Disclosure: I am not affiliated with Pederson's Bacon,\ and no one gave me a package to sample..  This is just my honest opinion.