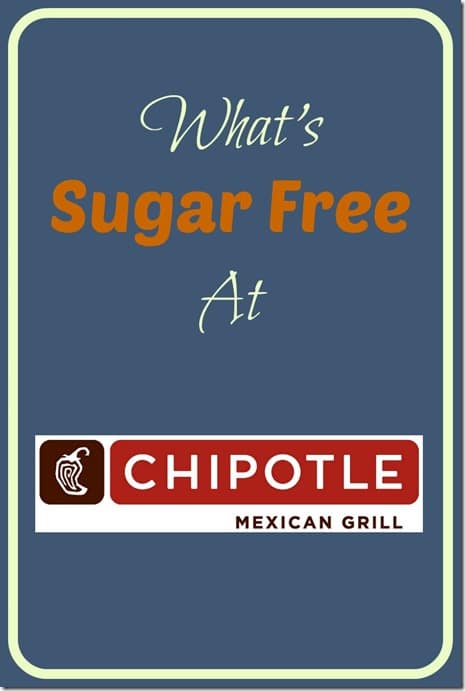 What is Sugar Free at Chipotle?
Wow.  After compiling this list of What's Sugar Free at Chipotle, I'm not sure why I don't eat here more often.  Almost NOTHING has added sugar.  The only exceptions are a little Dextrose in the corn tortillas and in stores with a plancha grill, they add a little honey to the chicken and beef marinades.  So I guess you might want to ask if they have a plancha grill before you order or just stick with the Carnitas or Barbacoa to play it safe.
If you want to reduce carbs as well, get a bowl instead of a burrito and just top it with sour cream and guacamole instead of any kind of dressing.  I gotta say, as difficult as it can be to find good food with no added sugar when I eat out, I really have to hand it to Chipotle to work so hard to make their food taste great without adding the sugar that isn't good for anyone.  Bravo, Chipotle!
If you'd like to see these ingredients for yourself, here is the Chipotle ingredients list.  You can also see my previous posts about what is Sugar Free at Restaurants.
Here's the full rundown on everything that is Sugar Free at Chipotle!
Barbacoa
Beans, Black
Beans, Pinto
Carnitas
Cheese, Monterey Jack
Cheese, White Cheddar
Chicken – But this one comes with a note "In Chipotle restaurants with a plancha grill we add a drizzle of honey to our Chicken marinade" so you may need to ask before you order.
Fajita Vegetables
Guacamole
Lettuce
Rice, Brown
Rice, White
Salsa, Roasted Chili-Corn
Salsa, Tomatillo-Green Chili
Salsa, Tomatillo-Red Chili
Salsa, Tomato
Sour Cream
Steak – But this one comes with a note "In Chipotle restaurants with a plancha grill we add a drizzle of honey to our Beef marinade" so you may need to ask before you order.
Tortilla Chips
Tortilla, Crispy Corn
Tortilla, Flour