Bacon Weave Hamburger Bun Recipe
I'm really excited about getting to share this recipe with you today because it filled a real need I had of wanting to eat a "normal" hamburger.  In other words, a hamburger I could pick up with my hands instead of eating with a fork.  Nothing wrong with a fork but sometimes you just want to pick a burger up and chow down.
So I've shown you one way to do this with a flax seed bun but how awesome would this be if it also added a lot more bacon to the meal!  I mean more bacon is always a plus in any recipe.
So here's what you do: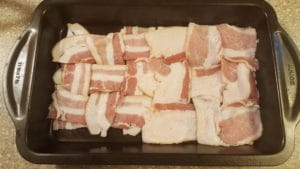 Cut 6 pieces of bacon in half and weave them together as shown above.  Put them in a a pan and bake them at 350° for about 20 minutes until crispy.
Take them out when down and drain them on a napkin or paper towel and let cool.  They will also harden a bit when cool.
While the bacon is cooking, fry up some burgers however you like and then use the bacon weaves like bread with whatever toppings and add-ons you enjoy.  As you can see, I went with a piece of cheese and some avocado pico I like to make which basically just avocado chunks mixed with diced onion and tomatoes seasoned with salt and lime juice.  Think of it as a very chunky guacamole.
You can see all my recipes here and if you decide to make this, tag @MySugarFreeJrny on Instagram so I can see it!

Yield: 1 Serving
Bacon Weave Hamburger Recipe
Prep Time: 5 minutes

Cook Time: 20 minutes

Total Time: 25 minutes

A great way to use bacon as the "bun" of a hamburger
Instructions
Cut bacon in half and weave it together into 2 squares
Bake at 350° for 20 minutes until fully cooked, drain
Use inplace of bread for hamburgers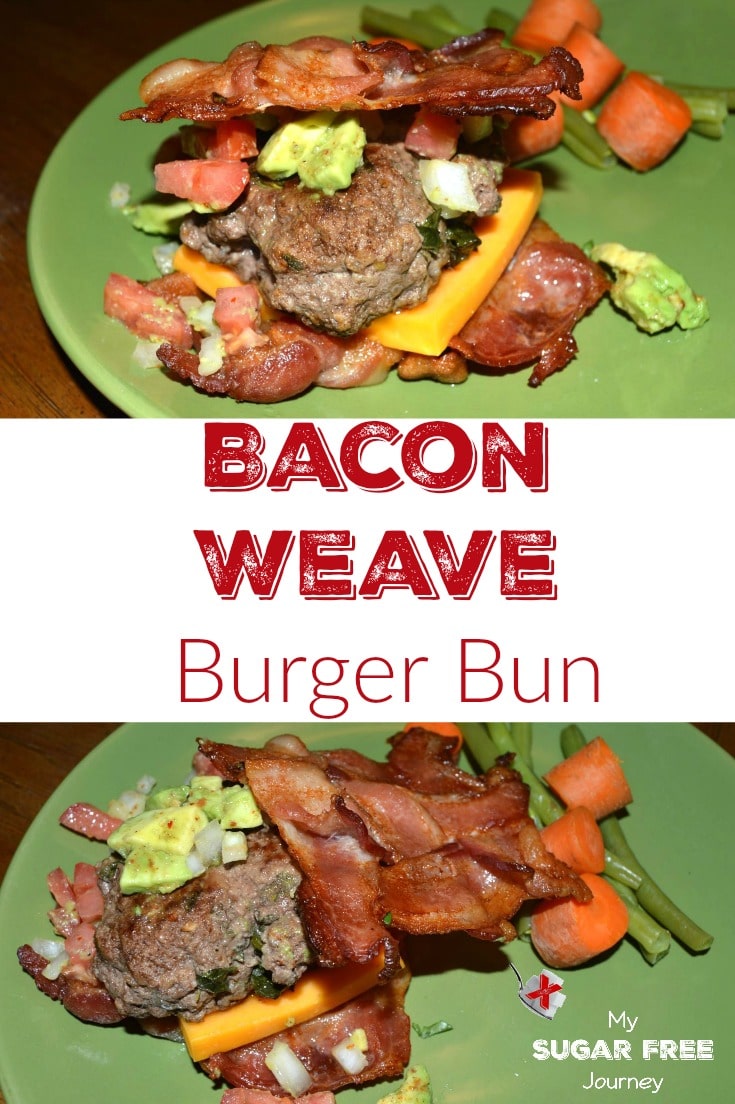 Don't miss a post! Click here to sign up for our daily email!
Need more info about the ketogenic diet? How about a great support group? Join our Ketogenic Facebook support group!