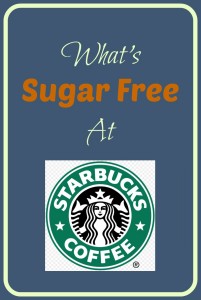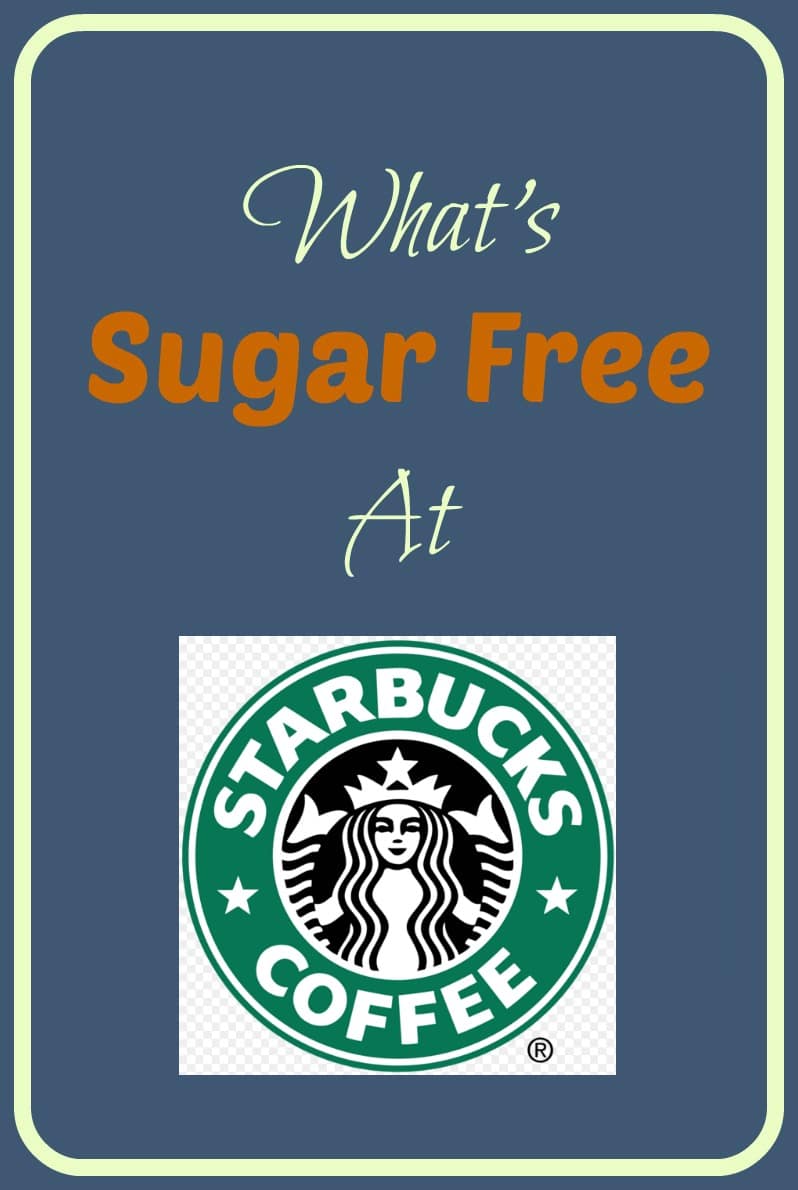 This week we are looking at What's Sugar Free at Starbucks.  This was an important thing for me to figure out because it always seems like I end up at Starbucks for all kinds of meetings or social events and just black coffee with cream was getting a little old.  Sometimes you just want to order that Grande coffee in a venti cup with 2 pumps Sugar-Free hazelnut, 2 pumps Sugar-Free vanilla, 2 pumps Sugar-Free Cinnamon Dulce, 2 equals and 4 Sweet and Lows filled to the top with cream, with extra cream on the side, double cupped with no sleeve, a stir stick, and stopper put in the top like all the other people I'm there with.  (Just kidding, if anyone I'm with orders anything even close to this, I leave and delete their contact info from my phone.) 🙂
So Starbucks is a little different than the other restaurants we've covered in that all their drinks are assembled piece by piece so you can make most of their drinks sugar free just by requesting one of their sugar free syrups instead of what they normally put in there.  Currently the available sugar free syrups are Vanilla, Hazelnut, Cinnamon Dulce, and Mocha and they also have special Holiday flavors like Peppermint that are only available at certain times of the year and of course you can always ask to have your drink sweetened with Splenda.  Unfortunately, the whipped cream has sugar and there doesn't appear to be a sugar free option for this.
Also, on the food items, most of the bread contains sugar except for the flat wraps and focaccia rolls but you can doctor several of the meals to make them sugar free.  You can find ways to do that next to the items listed below.  If a menu item isn't listed, it means I couldn't find a way to remove the sugar from it.
So here are your Sugar Free options at Starbucks.
UPDATE: How much Sugar is in the New Starbucks Unicorn drink?
I got this question in my email today.  Short answer? A buttload.  Like, a massive truckload of sugar.  A 16-ounce Unicorn Frappe contains 410 calories, 16 grams of fat, and 59 grams of sugar, while the 24-ounce version has 500 calories, 18 grams of fat, and a mind-blowing 76 grams of sugar.  This isn't a good choice if you are trying to cut out sugar, you would be better off eating an entire large pizza and honestly, I bet it would taste better.
Sugar Free Drinks at Starbucks
Frappuccino – Request it sugar free with one of the sugar free syrups listed above (Vanilla, Hazelnut, Cinnamon Dulce, or Mocha)
Fresh Coffee – Of course you can get this with cream and/or Splenda but if you want a little extra flavor, add one of the sugar free syrups
Kid's Drinks – They will steam milk and add one of the sugar free syrups, just be sure they don't put the flavored drizzle on top.
Iced Coffee – Again, same as the fresh coffee above
Hot Chocolate – Just order it with the sugar free mocha syrup and take off the chocolate sauce drizzle
Iced Tea – The Tea can be unsweet or sweetened with Splenda but unfortunately the lemonade is pre-sweetened so no Arnold Palmers
Sugar Free Food at Starbucks
Egg & Cheddar Breakfast Sandwich – Just remove the bread
Reduced-Fat Turkey Bacon Breakfast Sandwich – Take bacon and bread off
Spicy Chorizo, Monterey Jack & Egg Breakfast Sandwich – Take the bread off but the Chorizo only contains dextrose, no fructose
Spinach & Feta Breakfast Wrap – Unfortunately the sun dried tomato cream cheese spread contains a little sugar and I don't think you can easily have it removed but I wanted to put this on here because it's one of the few things they have where the bread doesn't have sugar.
Chicken Artichoke on Ancient Grain Flatbread – Only the bread contains sugar
Hearty Veggie & Brown Rice Salad Bowl –  Only the side dressing contains sugar
Roasted Tomato & Mozzarella Panini – The focaccia roll is made without sugar so this is one of the few sandwiches we can eat as is.
Zesty Chicken & Black Bean Salad Bowl – The dressing contains honey but is served on the side
Omega-3 Bistro Box – Just don't eat the chocolate or cranberries in the trail mix
Protein Bistro Box – Just don't eat the side of honey peanut butter spread and be careful of the raisins in the pita if you are avoiding those.
Remember you can find the full list of restaurants we've covered here.  Thanks!
Don't miss a post! Click here to sign up for out daily email!
Need more info about the ketogenic diet? Sign up for our 28 day training program and weekly ketogenic meal plans!